Every quilt square tells a unique story and serves as a gentle reminder of the many lives touched by organ and tissue donation...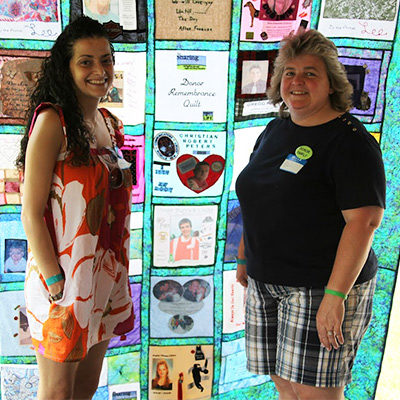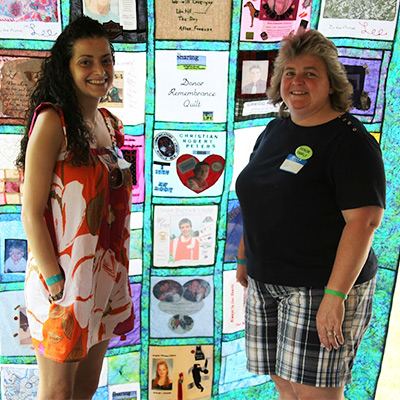 Our Quilts of Love program began in 1997 to honor the memory of donors and to date, more than 30 quilts have been created. Thousands of people have admired our quilts as they travel around the state to schools, hospitals, museums, libraries and places of worship. They continue to serve as a beautiful tribute to our donors, as well as wonderful tools for teaching the public about the importance of organ and tissue donation.

You are invited to participate in this special project by creating a quilt square to honor your loved one. This is an ongoing project and quilt squares can be contributed at any time.

Below are some basic instructions for making the quilt square:
Size: 10 inch x 10 inch for your design. Leave ½ inch border around all sides. (You do not need to hem or finish the edges of your square.)

Fabric: Can be any fabric, cotton or cotton blend recommended.

You may want to include your loved one's name and dates.

Photos: You can laminate, put on a button or transfer onto fabric by a professional.

Do not use iron-on transfer papers. The photo will fade.

Patches, badges, or any other items representing your loved ones interests (faith, sports teams, interests, career, hobbies) can be included.

Please sew everything securely. Do not use glue. Glue dries out over time and the items will be lost.
The quilts are made once we have 20 squares from families. We will hold a Quilt Unveiling Ceremony once the quilts are made and you and your family will be invited to attend. You are also welcome to 'borrow' your quilt for any special events and the NJ Sharing Network will display the quilt at various locations to help raise awareness for organ and tissue donation.
Please reach out to Family Services with any questions or once your quilt square is completed at
908-516-5411 or familyservices@njsharingnetwork.org