Saving and Enhancing Lives for 35 Years
This year, we are proud to celebrate NJ Sharing Network's 35th anniversary. While many things have changed since our inception in 1987, our collective commitment to saving and enhancing lives through organ and tissue donation has always remained a constant.

Thank you to our dedicated team, hospital partners, volunteers, advocates and members of our donation community for 35 years of support. We couldn't do what we do without you.
Because of Donation
"
Before I ever got my transplant, my life had changed because I realized there was hope for me"
—

Darryl Price,

Double-Lung Recipient
Darryl of Denville had barely been sick a day in his life when, at age 52, he was diagnosed with idiopathic pulmonary fibrosis. The outlook for Darryl was grim, but a life-saving double-lung transplant gave him a second chance at life. He immediately began setting new goals, telling his medical team that he wanted to be running by the time he finished rehabilitation and playing tennis within six months of returning home. Now, Darryl is living life to the fullest. He participates in running events and shares his story as a volunteer for NJ Sharing Network. He's also brushing up on his Japanese as he plans to tour Japan and create a travelogue to spark an appetite for adventure in others. "Honoring the gift of life means being the best version of yourself that you can be by inspiring and encouraging those who sorely need inspiration and encouragement," said Darryl.
In 2021, New Jersey was more generous than ever in saving lives through organ and tissue donation.
Organ donors.
New Jersey families were more generous than ever!
Organs transplanted
3rd highest year ever for saving lives!
Tissue and eye gifts healed and enhanced quality of life
One tissue can enhance the lives of over 75 others.
Staff Stories
Donna King, Senior Laboratory Supervisor


Donna King has been a part of NJ Sharing Network since it was formed in 1987. She oversees the lifesaving work of the state-of-the-art Transplant laboratory, primarily managing compatibility testing that matches organ donors and transplant recipients. Donna collaborates with a team of technologists to piece together patient background, medical history, and other relevant reports.
"Over the years, research has advanced immensely. Transplants that would never have been feasible 35 years ago are happening all the time," said Donna. "Even after all this time, my job feels rewarding each and every day knowing I make a difference in someone's life."
Donna is one of the few people who vividly recalls how NJ Sharing Network physically moved its headquarters multiple times as organ and tissue donation continued to increase in the Garden State.
"At first, we were located on the lower floor of the office building at 150 Morris Avenue in Springfield," said Donna. "Our team continued to grow until we took over the second floor. We then moved to a larger space on Mountain Avenue in Springfield before we made our final move in 2009 to our state-of-the-art headquarters in New Providence, featuring our expanded Transplant Laboratory."
Donna takes pride in recalling how her work in the Transplant Laboratory has evolved over time.
"It was very different 35 years ago as the number of donors and transplants was very small compared to now," said Donna. "At one point our Lab only had two technicians, for a brief time, and we were open weekdays from 8 a.m. to4 p.m. Off hours were covered by on-call staff. Now, we have more than 20 technicians working around the clock."
Another critical change has been the development of innovative technologies to advance NJ Sharing Network's life-saving mission. According to Donna, this has helped save more lives by reducing the time to process donor cases."
Years ago, it was standard practice for labs to separate T and B cells in blood samples, needed for testing, by using a drinking straw sealed at the end and stuffed with nylon wool," said Donna. "We would run a media through the sample and the T cells would flow through and the B cells would adhere to the wool. The process could last hours. Now, we have magnetic beads that separate the cells quickly. We obviously do not use straws anymore."
Donna's passion continues to be the driving force that motivates her to help the Transplant Laboratory team continue to 'Transform Transplantology' in the years ahead. Donna's legacy of support for NJ Sharing Network's life-saving mission has been passed on to her four children as they are all registered donors. Her oldest daughter, Jordan Vallejo, has also joined the Clinical team at NJ Sharing Network.

Key milestones in our 35 year history
NJ Sharing Network Milestones
1987 - NJ Sharing Network is established with nine employees dedicated to our life-saving mission
1991 - Declaration of Death Act states "Brain death" is the neurological criteria from which to declare death
1992 - NJ MVC mandates organ donation information is included in the driver's manual/ written exam and on the driver's license
1998 - Uniform Anatomical Gift Act revised to regard all verifiable expressions of the donor's desire to make a gift as legal, binding, and irrevocable
2001 - New Jersey "Donate Life" specialty license plate for organ donation became available
2003 - Legislation enacted allowing for "organ donor" status on the NJ digital driver's license
2008 - Hero Act mandates an online donor registry, donation education in public high schools, info in public institutions of higher learning and instruction in medical and nursing schools; The High School Heroes Program is established, educating and inspiring students by using the heroic donation story of UNC mascot Jason Ray, whose generous organ donation saved the lives of four NJ residents
2014 - First Donation After Cardiac Death lung recovery
2015 - NJ Sharing Network pilots the National Donate Life Registry, later adopted by the rest of the country
2017 - First Hepatitis C positive donor heart transplanted to Hepatitis C negative recipient
2018 - First HIV positive donor gives to an HIV positive recipient in accordance with the Hope Act.
2018 - Innovative #SaveNJLives campaign promotes the number of patients waiting in New Jersey communities through branded pizza box and coffee sleeves distribution
2020 - The Immuno Bill passes to extend Medicare Part B coverage for the lifetime of the transplanted kidney
2020 - First person authorization reaches an all-time high as 32% of donors documented their legally binding gift
2021 - Facilitated NJ's first DCD (Donation After Cardiac Death) heart recovery and transplant
2021 - An unprecedented number of organ donors (233) gave the gift of life
2021 - For the fourth consecutive year, awarded "Best Places to Work" in NJ by NJBIZ
2022 - First kidneys recovered and transplanted from a deceased COVID-19 positive donor
2022 - Our Facebook page surpasses 25,000 followers with nearly 150,000 post engagements and a reach of over 400,000 people annually.
2022 - Staff increases to 209 employees to meet growing needs and advance life-saving mission
Laboratory Milestones
2007 - Birth of paired kidney exchange chains
2010 - Virtual Crossmatches predict whether a crossmatch will be negative or positive and the strength of any positive crossmatch
2013 - IgG Subtype Crossmatch Assay developed (has since patented by the USPTO and other countries)
2014 - Regenerative Medicine Initiative launched (has since become the Personalized Transplant Medicine Institute)
2020 - Histogenomics assay enhanced to help predict graft function and reduce organ discard
2021 - Use of deceased donor stem cells to treat acute kidney injury


Foundation Milestones
2005 - The Sharing Network Foundation is established to engage the community in philanthropic efforts
2011 - Inaugural 5K Celebration of Life yields over $450K; receives an international award for its innovative marketing strategies.
2011 - The Landscape of Life Tribute Wall unveiled, recognizing those in whose honor or memory contributions were made
2015 - The 5K Celebration of Life raises over $1 million for the first time
2016 - Landscape of Life Meditation Garden opens as a special place for those whose lives have been touched by donation and transplantation
2017 - After raising nearly $2 million, a new Wall of Contributors is unveiled
2021 - In partnership with Team Liberty, Sharing Network Foundation hosts the Transplant Games of America in New Jersey
2022 - The Foundation reaches a total of $5 Million in grants awarded in support our life-saving mission and in partnership with named funds–Riley's Dance, Hearts for Emma Partner Fund, Joseph D'Addio Fund, Missy's Miracle Scholarship Fund, Betsy Niles Scholarship Fund, Jellybean's Rainbow, and The Wave Set
Because of Donation
"My son saved five lives and his memory lives on."

—Maria Perez Mother of Organ Donor, Roberto De Jesus Perez
Twenty five years ago, my son, Roberto, passed away at the age of 18 from a brain aneurysm. Through organ donation, Roberto was able to save five lives. It was an incredible honor to see Roberto's image on the Donate Life float in the Tournament of Roses Parade in California. We continue to tell his story to inspire others to say "yes" to donation. By sharing Roberto's legacy, in a way he is still with us.
Interested in supporting our life-saving mission?



Here are 35 ways to get involved!
1| REGISTER as an organ and tissue donor here or in person at your local motor vehicle agency.
2| DISCUSS your decision to donate with your family and friends.
3| ENCOURAGE 35 friends or family members to register as donors.
4| WEAR a green "Donate Life" bracelet to show your support and help initiate conversations.

5| ATTEND an Advocacy Night to become a certified volunteer.

6| FOLLOW NJ Sharing Network on Facebook.

7| POST a link about NJ Sharing Network on your own Facebook page.

8| CONNECT with us on Instagram at @NJSharingNetwork.

9| USE Twitter to alert your followers about what donation means to you.

10| JOIN us on TikTok @NJSharingNetwork and create a donor awareness video.

11| CHECK out our videos on YouTube and share them on your social media pages.

12| FOLLOW NJ Sharing Network on Twitter @NJSharing.

13| SHARE your story of hope at NJSharingNetwork.org/share-your-story.

14| VISIT the Sharing Network Foundation's Facebook page for fundraising events happening throughout the year.

15| PARTICIPATE in the 5K Celebration of Life.

16| SUPPORT our efforts with a $35 contribution to our Foundation. Encourage family and friends to make a tax-deductible contribution too!

17| DISTRIBUTE green "Donate Life" bracelets at your workplace or in your community.

18| ARE you bilingual? Help us share our life-saving message in multicultural communities.

19| JOIN your local Donate Life NJ Regional Group. Visit NJSharingNetwork.org/events.

20| SHARE any events happening in your community with us so that we may participate.

21| CONTACT your local high school to start a Donate Life Club, make donor awareness announcements, include a donation story in the school newspaper, or schedule an educational program for students.

22| CONNECT with area colleges about joining our College Outreach Initiative.

23| PARTICIPATE in our College Scholarship Program if you are a high school senior who has been impacted by donation or advocate for donation.

24| HOST an information session for your fraternity, sorority, or civic association.

25| SPREAD awareness on the road by purchasing a "Donate Life" NJ specialty license plate from the Motor Vehicle Commission.

26| GET a pulse on what others think about donation by hosting a "Let's Talk About It" event.

27| ATTEND speakers training to brush up on how to best share your story. Visit NJSharingNetwork.org/events.

28| TAKE a NJ Sharing Network volunteer refresher course for the latest information. Visit NJSharingNetwork.org/events.

29| SHARE your donation experience at your house of worship. Ask your faith leader to include donation messaging in electronic and print bulletins.

30| CONNECT with local police, fire, and EMS departments to participate in our Legacy of Heroes Program.

31| REQUEST a NJ Sharing Network banner at info@njsharingnetwork.org. Take it with you when you travel, snap a photo, and share it at socialmedia@njsharingnetwork.org.

32| REQUEST sunflower seed packets at info@njsharingnetwork.org. Plant the seeds and when they bloom, snap a photo, and share it at socialmedia@njsharingnetwork.org.

33| SHOW your spirit by wearing blue and green–the colors of donation.

34| HOST an educational program at your workplace.

35| SPREAD the facts: more than 100,000 people are waiting for an organ transplant, including nearly 4,000 people in NJ.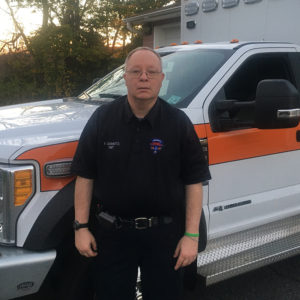 Staff Stories
Fred Goerlitz, Administrator of Data Compliance
Fred has been a valuable member of NJ Sharing Network since March 1996. His knowledge and expertise have supported the Donation Resource Center (DRC) and in producing and analyzing vital reports.
Fred, who is also an Emergency Medical Technician (EMT), was one of the first three full-time Donation Resource Center (DRC) employees hired in March 1996 when NJ Sharing Network was located at 150 Morris Avenue in Springfield. Fred has been a valuable member of NJ Sharing Network ever since.
Fred recalls, "When I applied for the position, I was not sure what to expect, but I soon realized that I was inspired to be a part of an organization that works to save lives each and every day."
Fred feels a deep sense of pride when he thinks about NJ Sharing Network's growth. He also speaks candidly about how technological advances have improved the way team members work each day. "In 2007, the DonorNet system and electronic notification was a true gamechanger in the way we communicate with our transplant centers and hospital partners," said Fred. "Before that, we had to constantly shuffle around the office using paperwork, faxes and phone calls to relay patient charts and other information. The slow, dial-up server connection at the time also made tasks challenging."
Looking ahead, Fred is inspired at the potential for continued growth and milestone achievements at NJ Sharing Network. "It is exciting to come to work focused on our ultimate goal of reaching 300 organ donors in a single year in the next 3 years. That is lightyears ahead of when I started," said Fred.
Read our Circle of Life Magazine!
NJ Sharing Network's Circle of Life magazine creates a community for the thousands of New Jersey residents whose lives have been touched by organ and tissue donation.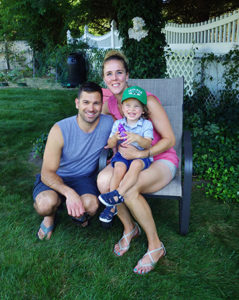 Because of Donation
"I can run, jump, and play with my adventurous 2-year-old son."


—Michelle Brugger,
Tissue Recipient
When I was 23 years old, I tore my ACL during a workout. Doctors told me without surgery, I would never be able to do martial arts again. (I'm a 3rd Degree Black Belt.) Forget about running. It wasn't until seven years later, when I started a 5K Celebration of Life team, did I make the connection that I myself am a tissue recipient. Because of the generosity of tissue donors, people like me are able to regain their quality of life.
Do you have a special memory or wish to honor a loved one or someone special? Please share below
.

💚💙