April is
National Donate Life Month
Every Community Needs Heroes
A Month to Honor, to Remember, to Give Hope
National Donate Life Month (NDLM) features an entire month of activities to encourage people to register as organ and tissue donors and to honor those who have saved lives through the gift of donation.
Here are some reasons why registering right now is more important than ever:
Of the over 100,000 U.S residents waiting for a life-saving transplant, over 4,000 live right here in New Jersey.
17 people die each day while waiting for a transplant.
Another person is added to the waiting list every 9 minutes.
One organ and tissue donor can save 8 lives and enhance the lives of over 75 others.
Please join us on Facebook, Instagram, Twitter, LinkedIn and TikTok throughout the month to get involved and help us share our life-saving message!
Every Community Needs Heroes
We are celebrating National Donate Life Month and encouraging people to register as organ and tissue donors by distributing custom coffee sleeves, table tents and posters to restaurants, coffee shops and cafes throughout NJ, as well as to our hospital partners.

Thank you to all who are helping us to share our life-saving message! If you would like to display our materials in your establishment, click here!
Have you seen our Every Community Needs Heroes materials in your town? If so, please let us know where and share a photo with us at socialmedia@njsharingnetwork.org!
Important Donation Awareness Days
Donate Life Living Donor Day
April 5, 2023
Donate Life Living Donor Day is a celebration to honor living organ donors for saving and healing lives! In 2022, more than 6,500 people made the decision to give one of their kidneys or a part of their liver to someone waiting for a second chance at life. Thank you to all living donors for your remarkable generosity!
Our Foundation and Team Liberty hosted an in-person reception for living donors at our headquarters on April 3.
Blue & Green Spirit Week
Begins April 8, 2023
Get in the spirit and join us on our social media pages for an entire week of celebrations. We'll recognize the donors, volunteers and healthcare heroes who make second chances possible as we encourage others to give hope to those who are waiting by registering as organ and tissue donors.
Self-Care Workshop
April 12 | 5:00-6:00pm
Join us on ZOOM for this special workshop open to hospital partners and community members and presented by NJSN Advanced Family and Grief Specialist Jacqueline Salvatore, LSW MSW to learn about the importance of self-care and how it can bring you feelings of peace, joy and love amidst the chaos of daily life. Sign up at http://bit.ly/3YRKpDX.
National Donate Life Blue and Green Day
Friday, April 14, 2023
Join the national celebration in support of organ and tissue donation by wearing blue & green!
Post your blue & green photos on bulletin boards, newsletters and social media to spread awareness and be sure to send us your pictures at socialmedia@njsharingnetwork.org. Use hashtags #BlueandGreenDay #NDLM and tag us on Facebook and Instagram @NJSharingNetwork.
Donor Remembrance Day
April 30, 2023
April 30 is national Donor Remembrance Day, a day to come together to honor and celebrate donor heroes who have given the gift of life through organ, eye, and tissue donation. The forget-me-not flower is a symbol of Donor Heroes and a reminder that their courageous gift will always be remembered. Visit the national Donor Hero Remembrance Garden on the AOPO website today to "plant" a forget-me-not flower in honor of your Donor Hero, and then share your Donor Hero's story on April 30 using #DonorRemembranceDay.
Note that it will take 3-5 business days for your dedication to be posted on the national Donor Hero Remembrance Garden page.
Additional Ways to Get Involved
Join our TikTok Challenge!
Create and share a TikTok video promoting organ and tissue donation during National Donate Life Month for a chance to win a $100 American Express Gift Card!
Challenge Rules:
Videos must promote organ and tissue donation OR dispel a myth about donation OR include a call to action to register as an organ and tissue donor at www.NJSharingNetwork/Register.


Please tag us @NJSharingNetwork and include hashtag #NJSharingNetwork in your caption. Please also share your video with us by sending a TikTok link to socialmedia@njsharingnetwork.org.



Entries are due by April 30 and will be judged by likes, shares, comments and reposts! The winner of the gift card will be announced on May 5, 2023.
Questions? Email us at socialmedia@njsharingnetwork.org.


Honor someone special with a custom social media post
We'd be happy to send you a customized image honoring a loved one or someone special you'd like to recognize as a hero connected to organ and tissue donation. Simply email us a photo and a few words about your honoree and we'll send you an image you can post on your social media during Donate Life Month.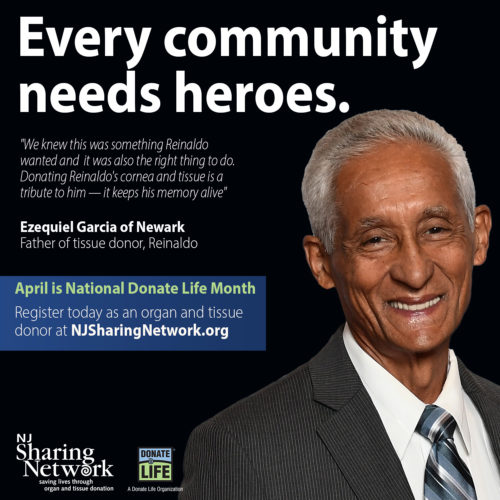 Request a Donate Life Month Proclamation in your town
Raise awareness for organ and tissue donation in your local community by requesting a Donate Life Month proclamation. Click below for details!
Here is a Sample Proclamation
FAQ - Requesting a Proclamation
Register as an organ and tissue donor
Celebrate National Donate Life Month by registering as an organ and tissue donor and sharing your decision with friends and family.
---
Downloadable Resources
Social Media Graphics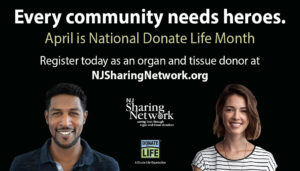 Facebook Post - English, Spanish
Instagram Post - English, Spanish
Linkedin Post - English, Spanish
Twitter Post - English, Spanish
Printable Flyers
English - PDF, JPG
Spanish - PDF, JPG
Monitor Graphics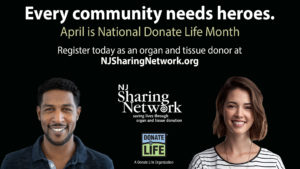 800x600 - English, Spanish
1920x1080- English, Spanish
National Blue and Green Day
Facebook Post - English, Spanish
Instagram Post- English, Spanish
Instagram Story - English, Spanish
LinkedIn Post - English, Spanish
Twitter Post - English, Spanish
Printable Blue and Green Day Flyer

Download PDF