Multicultural Outreach
#DonationNeedsDiversity
New Jersey is a diverse state filled with a rich history and culture. Although each ethnic and cultural group has their own unique perspective on organ and tissue donation, generosity and helping others in need are valued as important components of all communities.
Let's come together to increase awareness in diverse communities about organ and tissue donation and help save lives.
August is National Minority Donor Awareness Month!
National Minority Donor Awareness Month is an initiative to save and improve the quality of life of diverse communities by creating a positive culture for organ and tissue donation, focusing primarily on African American, Hispanic, Asian/Pacific Islander and Native American communities.
#DonationNeedsDiversity
Our #DonationNeedsDiversity initiative honors the generosity of multicultural donors and their families, while also underscoring the critical need for people from diverse communities to register as organ and tissue donors.
Celebrate with us!
Join us at upcoming

events

:

August 2
National Night Out Events - Newark (Weequahic Park), Plainfield (Black Lives Matter Plaza), Paterson (Barclay Street), New Providence (New Providence High School)
August 5
Newark First Friday - Mulberry Commons Park, Newark, NJ
August 7 and 21
11:00am - 2:00pm | The Yard Jazz Brunch - Newark, NJ
August 11, 2022
11:00am - 3:00pm | Newark Farmers Market - Newark, NJ
August 27, 2022
We're partnering with Walgreens! Come visit our information tables from 12:00-4:00pm at select Walgreens locations in Newark, Paterson, Somerset, Plainfield, Jersey City, East Orange, Elizabeth, Bayonne, Irvington and Jersey City
For more information about above events including location addresses please contact Ametra Burton at aburton@njsharingnetwork.org.
Look for our Every Community Needs Heroes wellness kiosks in your local CVS stores throughout August! Snap a photo of yourself with the kiosk and send it to us at socialmedia@njsharingnetwork.org.

Share our life-saving message on social media!
Printable Materials
Social Media Graphics
Every community needs heroes. Help spread the word and encourage others to register as organ and tissue donors by downloading and sharing our graphics on your Facebook, Twitter and Instagram pages. Sample text for your posts is also included below.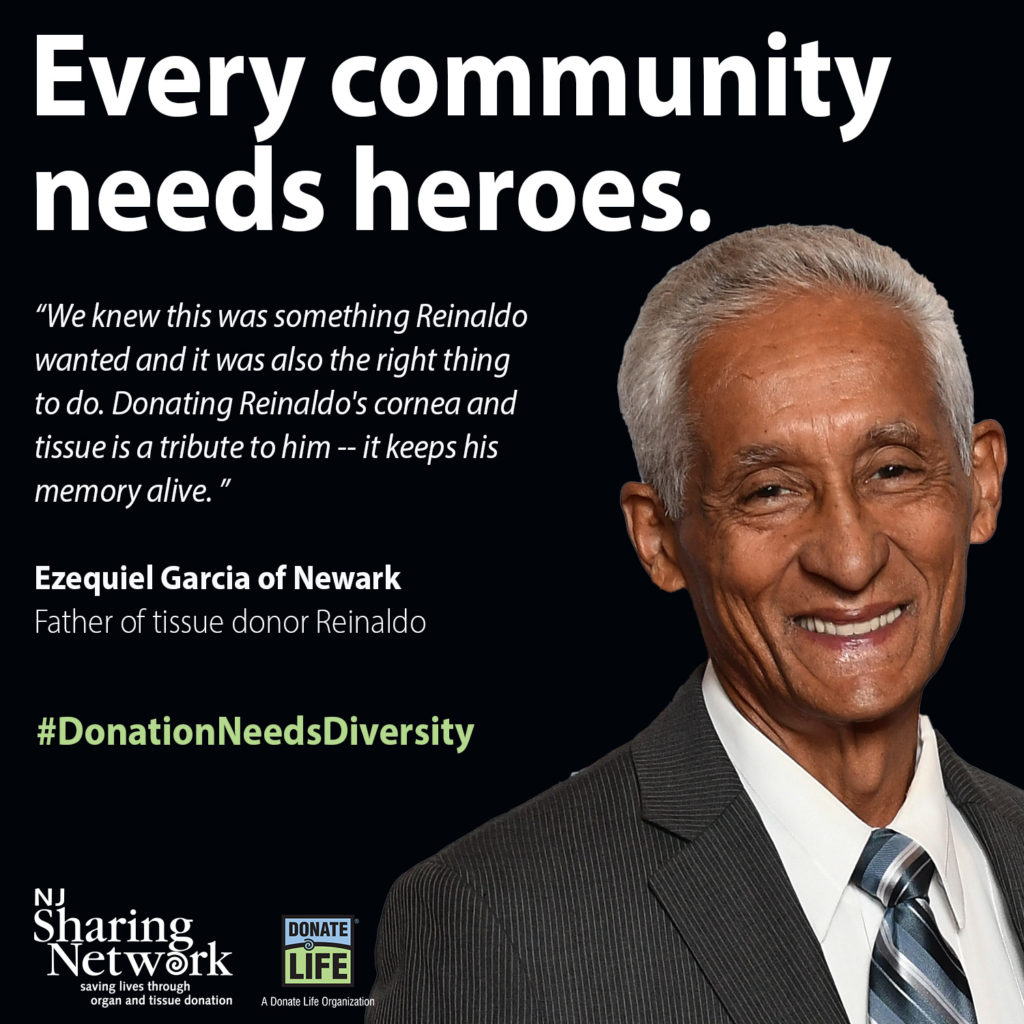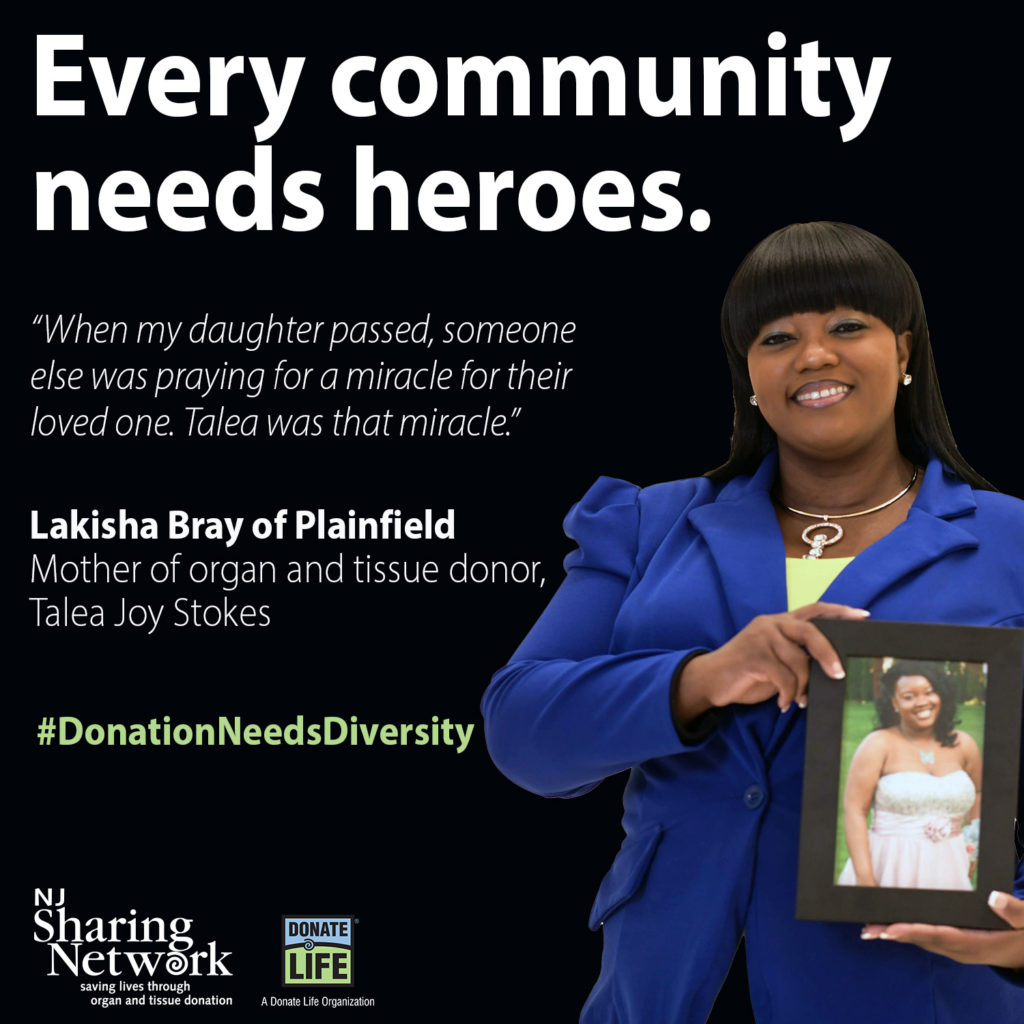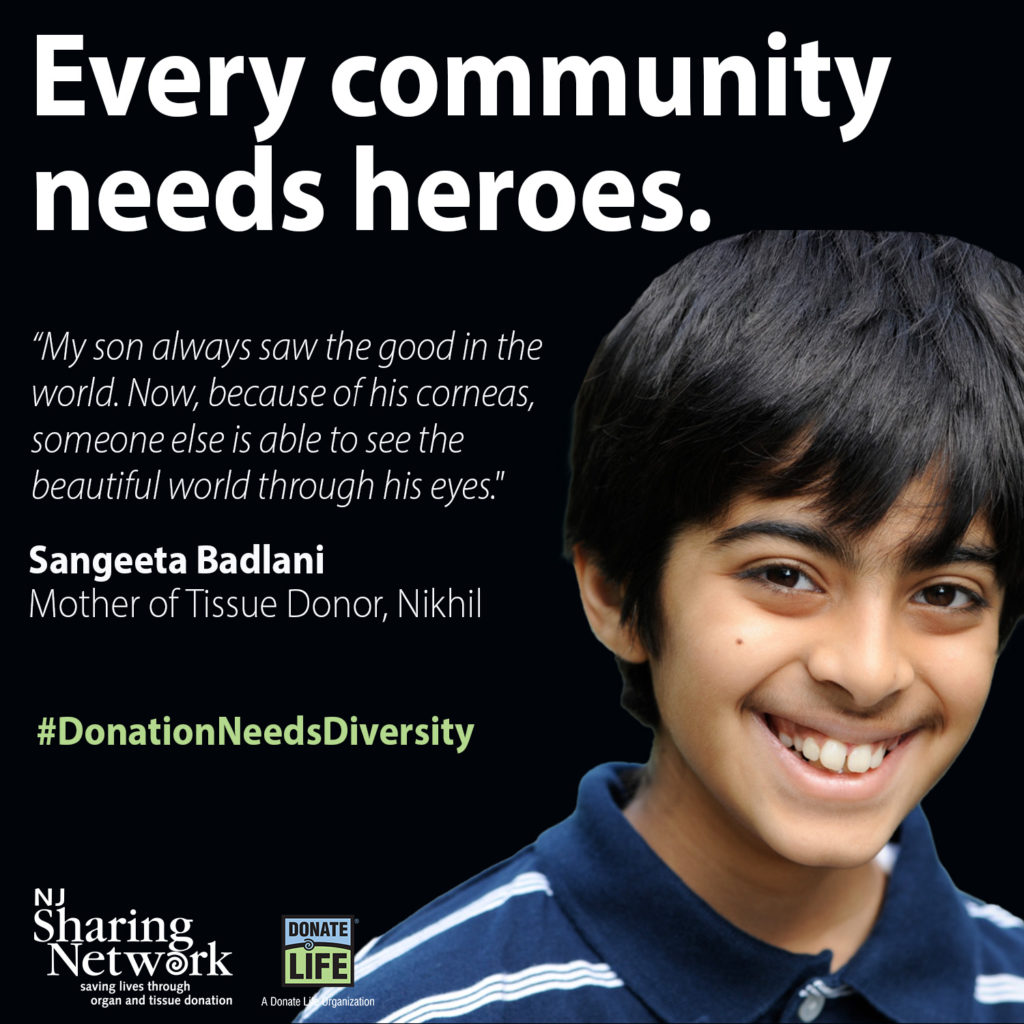 Facebook Post
Instagram Post
Instagram Story
Twitter Post
Sample posts to accompany graphics
August is National Minority Donor Awareness Month. 68% of those waiting for a life-saving transplant in New Jersey are people of color. Get the facts and register as an organ and tissue donor today at www.NJSharingNetwork.org. #DonationNeedsDiversity
August is National Minority Donor Awareness Month. A greater diversity of donors increases access to transplantation for everyone. Learn more and register as an organ and tissue donor today at www.NJSharingNetwork.org/Donation-Needs-Diversity.
There are 162 people in Newark currently waiting for a life-saving transplant. A greater diversity of donors increases access to transplantation for everyone. Register as an organ and tissue donor today at www.NJSharingNetwork.org/Register
#DonationNeedsDiversity #NationalMinorityDonorAwarenessMonth

(for above post you can find the number of people waiting in your town at www.SaveNJLives.org.)
Why #DonationNeedsDiversity Matters
People of all ages, races, and ethnicities can save and enhance lives by donating their organs, eyes and tissue. Organ and tissue transplants are needed by people from every area of our nation.
Most of the conditions that can result in organ failure are best treated through transplantation.
People of most races and ethnicities in the U.S. donate in proportion to their representation in the population. The need for transplant in some groups, however, is disproportionately high, frequently due to a high incidence of conditions such as high blood pressure or diabetes, both of which can lead to the need for a kidney transplant.
A greater diversity of donors may potentially increase access to transplantation for everyone.
Although organs are not matched according to race/ethnicity, and people of different races frequently match one another, all individuals waiting for an organ transplant will have a better chance of receiving one if there are large numbers of donors from their racial/ethnic background. This is because of compatible blood types and tissue markers—critical qualities for donor/recipient matching—are more likely to be found among members of the same ethnicity.
Honoring donor hero Jordan Herron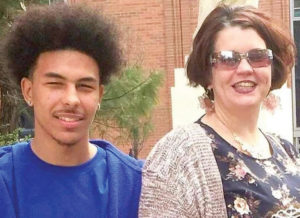 Tissue donor Jordan Herron, 19, of Jersey City was a caring young man with a bright future. His selfless nature was often seen in how he helped care for his younger sister, Isabella, who suffers from muscular dystrophy and epilepsy. Jordan had big dreams of becoming a firefighter to follow in the brave footsteps of his uncle, Jersey City Fire Department Captain Bryan Tullock.
"From the time he was a little boy, Jordan always told me his goal in life was to help others in need," said Tracey Tullock, Jordan's mother.
On July 20, 2019, senseless street violence claimed Jordan's life. According to many neighborhood parents who were nearby during the shooting spree, Jordan was a hero as he yelled to others to hide behind parked cars for safety. "I loved him with all my heart, and our family has felt such an overwhelming loss," said Tracey. "He was just in the wrong place at the wrong time."
A silver lining in Jordan's story is that he was a registered organ and tissue donor. His tissue donation has already enhanced the lives of 38 people from around the world. Jordan's corneas were transplanted internationally, and his saphenous veins were transplanted in Alabama. His gifts of tendons, skin and bones are also helping others live healthier lives. According to Tracey, she had spoken with Jordan about organ donation just two years before he passed away. "We had a conversation about being an organ donor while we were sitting at the MVC," said Tracey. "He asked me if I checked the organ donor box, and I told him, 'Absolutely because mommy wants to always help others – whatever I can give, I will give.'"
"Jordan's legacy will live on forever. He exemplified the giving spirit that exists in our diverse communities throughout New Jersey," said Joseph S. Roth, President and CEO of NJ Sharing Network. "Our NJ Sharing Network family celebrates and honors Jordan and all donor heroes for their selfless decision to save and enhance the lives of countless others who now have more holidays, birthdays and special moments to share with their loved ones."
Get the facts about organ donation
People of all ages and medical histories should consider themselves potential donors

The decision to be an organ donor will in no way affect the level of medical care for a sick or injured person.

Organs are matched according to medical need, compatibility and location. A patient's income, race or social status is never taken into account.

Most religions support organ donation and consider it the greatest gift a person can give.

One organ and tissue donor can save 8 lives and enhance the lives of over 75 others.